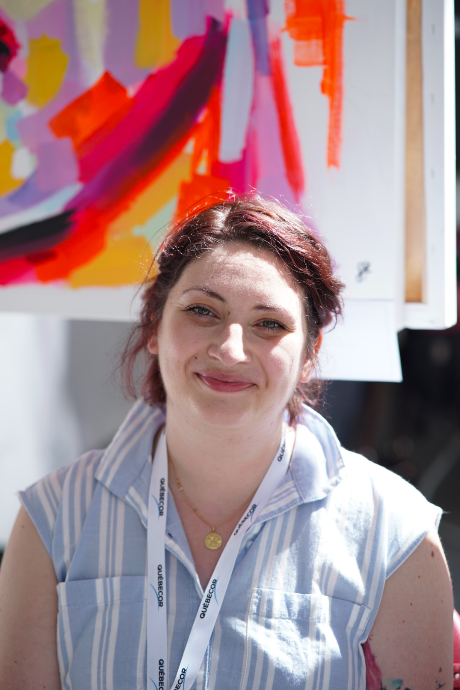 "There are flowers everywhere
for the ones who want
to see them"
Henri Matisse
Sophie Bastien was born in Dijon, France in 1984. She currently works and lives in Montreal, Canada.
Sophie's passion for portraiture started when she joined Fine Art School at the age of 18, where she was tasked with painting her peers. She instinctively started painting with vibrant strokes but couldn't achieve the same photo-realistic results she did painting still lives so decided to hone her style and began studying graphic design.
After finishing her studies, Sophie decided to move to London, UK. She was craving the artistic freedom of her Anglo-Saxon neighbors. She worked there as a freelance creative designer for well known fashion and luxury brands to make sure she would still have time to paint. She then moved to Melbourne, Australia for 2 years where her style evolved radically, leaving behind the graphic elements she was incorporating in her paintings and focusing more on the characters. In 2019 she moved to Montreal, Canada and decided to concentrate exclusively on her paintings and become a full-time artist.
Bastien produces figurative art around the female figure exploring identity, traditions, and belonging. Her work is bold, striking and imaginative. Sophie has been exhibiting in Los Angeles, Paris, Berlin, Miami and London among other cities.
ARTIST STATEMENT
Sophie Bastien's work is influenced by her background in the fashion industry, she paints emotionally charged women's portraits. Through picking pictures of like-minded, strong willed women that move her by both their strength and fragility – her 'warriors' as she calls them, she pays tribute to all of the strong female figures in her life.
She paints her vision instinctively and spontaneously with daring colors – working freely and organically without any rigid planning on how the final painting will look.
Sophie's favorite medium is acrylics. She is only using the 3 primary colors and white that she mixes to represent her reality. To finish, she then enhances her portraits with touches of fluorescent paint and black ink.